This article was original published in the Craftsmen section of AudioVideo Interiors Magazine by Marilou Vaughan
"Each of my pieces is unique. You won't find their design or engineering in any other audio/video furniture," Volkmar Drübbisch states emphatically. And it takes only a quick look at his work to confirm it. There are bold shapes and angles and even materials that other craftsmen have not explored.
"But besides its unique look, I want my furniture to meet the needs of serious
audiophiles, and I understand those needs because I have been serious about audio since I was a boy in Cologne, Germany. I spent my first real money not on a motorbike like my friends did, but on components. What I found was that I was unhappy with the available furniture for them. So, it was only natural that I build my own."
But Drübbisch took a seriously roundabout path to life as a full-time craftsman. "I was trained and worked as a paramedic in Germany. Out of that grew another interest, so I went to school and got a doctorate in pharmacy. And with this I was hired by the University of California San Francisco as a post-doctoral fellow, and later, a laboratory director and teacher."
The academic life continued for almost five years, until 1995, but during the entire period he continued to make furniture. "In the first year I put together a portfolio of pieces and took it to contemporary art galleries and high-end furniture stores in San Francisco. And I got my first contracts."
Drübbisch is quick to credit both his friends and an organization called the San Francisco Furniture Forum (SF3) with helping him convert his hobby into his livelihood. "SF3 has about 60 members who design and build unique furniture. It helps people make contacts, learn how to present themselves and develop a business plan."
So, pARTcular Contemporary Designs was founded. "For five years before I had called the company German AudioVideo Design, but I decided that that sounded like I couldn't build other things when really I can do whole residential and commercial projects. So I chose the new name because my pieces are particular and the word has 'art' in it too. When people see my work they usually say that they see a sculptural or an art component in it."
It is interesting to speculate on where this component comes from since Drübbisch had no formal design training. "Well, my mother sold contemporary furniture in her store in Cologne and my grandfather was a woodworker and sculptor. So it may have come from there."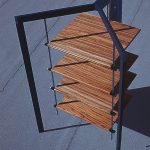 Whatever its roots, nowhere are the sculptural and artistic more apparent than in "Ypsilon," Drübbisch's newest creation. His first production piece, "Ypsilon" was shown at San Francisco's Stereophile Show in May/June 1997, and was an award winner at the 1997 Consumer Electronics Show in Las Vegas. "I am proud that it won honors for both design and engineering from the Industrial Design Society of America."
Made of a coarse, tropical hardwood called zebra wood and three densities of steel, "Ypsilon" is an eye-catching piece. "Like all of my A/V furniture, it is crafted to display components. But I want that function to converge with visual elegance as well. I designed something simple and beautiful that would capture the attention of the user. What happened also was that it set new standards for quality racks."
Some of the standards to which he refers are its infinitely adjustable shelves that allow the user to remove shelves and create more space for large components, or add shelves to accommodate additional equipment. The suspended shelves are uncoupled from the external frame, eliminating the transfer of vibrations to shock sensitive components. Its open structure allows access from all sides to guarantee easy maintenance. Cables are hidden in a channel for safety and a clean look. It is available in two sizes –48 inches high x 31 wide x 30 deep and 53 inches high x 34 wide x 30 deep– and other materials such as standard hardwoods, granite or glass shelving. And, the entire frame can be disassembled for shipping and reassembled by removing and replacing just two screws.

"It is important to identify the functional demands of the user first. Then the design can follow in a coherent way. That's why the basic shape of 'Ypsilon' resembles the fetter 'Y' that was chosen to reflect the welcoming aspect of a person with open arms. Therefore, audio/video equipment is embraced and protected by 'Ypsilon's' shape and body."
Drübbisch has just added matching amplifier racks to the "Ypsilon" line.
A second and equally sculptural rack is "Eurythmy," which also features a tripod, but this time, as its base. "This is made of aircraft aluminum, the highest-quality aluminum available, and a material called Lexan for the shelves. When you put components on the shelves, the support column is hidden. All you see are subtle lights behind the blue dots that illuminate what appear to be components floating in space. When I submitted this piece to the American Association of Furniture Artists, they described it as 'functional art and sculptural art.'"

While the piece shown here is 66 inches high x 31 wide x 31 deep, it can be built to customer specifications. "I have to know the weight and size of components to engineer it properly so that it doesn't tilt. The base works like scissors: move the right leg to find the center of gravity and then adjust the three cones in the base to guarantee that the shelves are horizontal."
Another creation in aircraft aluminum is "Odysee," a custom-made shelving system that is capable of holding 400 compact discs. "But you can start small with this," Drübbisch says. "Put in two or three shelves and use the top and bottom ones for CDs and the middle for a player. Add more shelves as your CD collection grows."
The infinitely adjustable shelves have a recessed surface that is filled with suede to prevent CDs from slipping.
"The whole column pivots for different angles. If I get bored, I can change it around. It can even be straight," he says with a laugh.
One final rack he singles out for comment is called "Migration," which was his wife Anne-Louise's favorite until "Ypsilon" came along. "What happens when I am creating a new piece is that I make sketches, maybe 60 or 70 of them, until I get the engineering and the shape right. Then I disappear for about three weeks while I build it. When it is finished, we have a good dinner with some French wine and afterward I lift the cover off and we look at the new piece. It is special to both of us."
Like "Eurythmy" and "Odysee," "Migration" is built to exact specifications. "I present customers with an idea but let them come up with their own shape for the base or material for the shelves. I think the happiest customers are those who think about what they like and have something made that reflects those likes. That's why each of these pieces is custom built."
Volkmar Drübbisch doesn't just push the creative envelope. "I am pushing the laws of physics," he explains. He appears to be winning on both fronts.